For those seeking the ultimate in acquiring a unique, high value, quality look and feel there is no better way of presenting your product than by the use of metal, for which Rombus has a number of high impact solutions.
Alpo-Lyte Material.
Polypropylene has long been recognized and acclaimed within the packaging arena for its light weight, durable and adaptable finishing characteristics, but when ingeniously sandwiched between two outer layers of aluminum a whole new world of exciting packaging opportunities becomes available.More than impressive as a standalone material (printed, etched or embossed) Alpo-Lyte can be combined with Perspex, Rigid board or soft touch PVC to create a truly original and stunning visual effect.With inherent flexibility built in it is ideally suited for the construction of boxes with hinged lids, presentation folders and slip cases.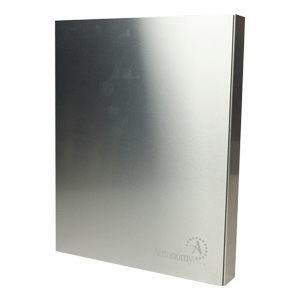 Used in conjunction with foam inserts it is perfect for Multimedia presentations, Launch packs, Gifts and promotional items as well as luxury packaging.
Metal Packaging, Metal Packaging Supplier
Our metal packaging is of exceptional quality, and the use of metal in the metal packaging gives your products the air of quality